6 REASONS WHY YOU SHOULD THINK ABOUT A CAREER IN PARAMEDICAL TATTOOING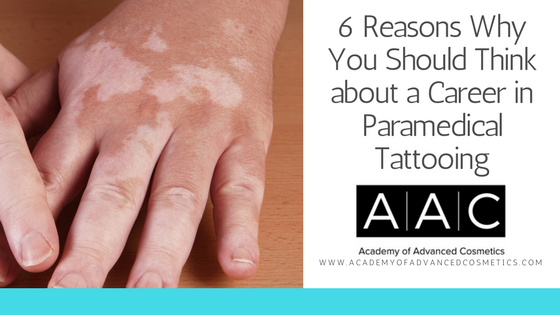 Paramedical tattooing is having a moment right now. It's in the headlines. It's blowing up on social media. It's helping people feel more confident in their bodies. It's helping other people grow and expand their careers.
Paramedical tattooing, in other words, is here to stay.
If you haven't already considered it as a career, you should now. With the average salary of permanent makeup artists hovering around $50,000, it's a smart choice. More than just money, paramedical tattooing is a way to help others.
Keep reading for the top six reasons you should consider a career in paramedical tattooing today!
THE INDUSTRY IS EXPLODING RIGHT NOW
The Society of Permanent Cosmetic Professionals, or SPCP for short, releases annual reports on the state of the industry. According to their 2015 report, business is booming. According to Learn.org, the industry is growing at a 12% rate. There are more and more people getting involved in the paramedical tattooing industry. Isn't it time you joined the trend?
THE PAY IS PRETTY GREAT
The average salary for someone involved in paramedical tattooing varies, but a good average is around $50,000. It can be as low as $30,000 or as high as $70,000. With this range, it's important to be trained by the best. That's where the Academy of Advanced Cosmetics enters the picture. Our professional paramedical tattooing training courseteaches you everything you need to thrive in the industry!
YOU HAVE LOTS OF SPECIALTY OPTIONS
The paramedical tattooing industry is a huge one with all sorts of different specialties. These range from the incredibly popular, like microblading, to the more niche like scar camouflage. This gives you an almost unlimited amount of freedom when it comes to career direction. You can learn them all, offer them all, and brand yourself as THE go to permanent cosmetic professional!
YOU'RE HELPING A LOT OF PEOPLE
Making a lot of money is great, but it's even more satisfying to help people at your job. In fact, many people consider this the difference between having a job and having a career. That's one more reason to consider a career in paramedical tattooing. You can offerareola repigmentaion to women who have suffered from breast cancer. You can offer scar camouflage to people who have surgical scars or suffer from vitiligo. The possibilities for helping are almost endless.
YOU WORK WITH DOCTORS
As a paramedical tattooer, you work alongside doctors, nurses, and all sorts of medical professionals. It's a pretty exciting field and your day-to-day work is sure to take you into some interesting situations. Besides, it's the best of both worlds: you're a medical professional without having to sacrifice a decade to training.
YOU CAN GET CERTIFIED QUICK
Whether you decide on becoming an elite brow specialist, a scalp micropigmentation expert, or something completely different, you can become one quick! Most training courses are a handful of days. Now, it's important to make sure you take care of all the proper prerequisites and get the proper licensing from your individual state. This can add some time on, but your actual training will be quick.
Now that you're sold on the benefits of a career in paramedical tattooing, it's time to check out our course schedule! Take the next step in your career today by enrolling in the Academy of Advanced Cosmetics.
2 comments