Course Description
Offer your clients the perfect treatment that allows them to experience an "ombre like" brow without the commitment.   Henna is 100% natural, which lasts two to three times longer than a normal tint.
A new era in eyebrow tinting and eyebrow design brings us Henna Brows! Henna Brow offers the perfect alternative to eyebrow tinting, without the use of ammonia or hydrogen peroxide to develop the eyebrow color.  Normal eyebrow tinting just colors the brow hair, but Henna colors both the hair & skin. Henna Brow gives you the opportunity to create expressive eyebrows & camouflage gaps in over tweezed eyebrows or brows with sparse hair.
Course Total Cost: $700

Only $200 Deposit Due Today
Note: This is a Hybrid class and all In-Person dates will be scheduled one on one with the instructor.  Therefore, after registering please contact us to arrange a scheduled model day.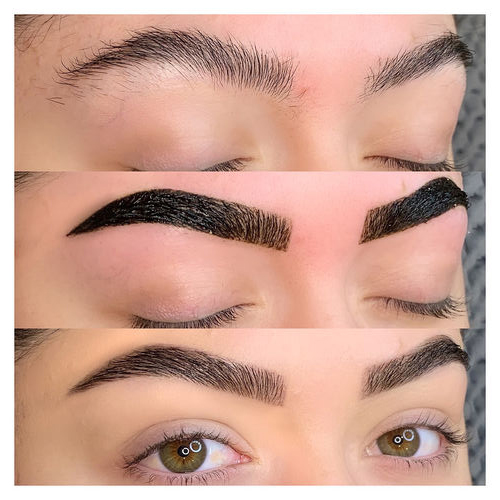 Henna Eyebrow Course Details
Course Includes:
Approximately 5-hour course
Course Manual
Temporary Tattoo License
Full-Service Kit valued at $325 and includes: Colors, mixing sticks, eyebrow brush, cleanser, setting lotion, cup, position paste, and eyebrow pencil
Certification
In-Class Training Duration: 1 Day | 9am – 2pm
Course Duration Breakdown:
Total Course Training 5 Hours
Prerequisite:
This is a beginner's course and no previous experience is necessary.
Henna Eyebrow Course Outline
What is Henna, it's origin and story
Science of Henna 2 Stages of Development
Brow Mapping – Step by Step Application & Removal
Patch Testing
Mixing Henna Pigments
Contraindications
Sanitization and Sterilization
Henna Brow Colour Guide
Pricing & Consultations
Demonstration by Instructor
Client Consultation and Preparation
Live Mixing of Henna
Live Model Practical Application
Need Assistance Paying For Training Courses?
Financing & payment options now available