Mastering The Microblading Consultation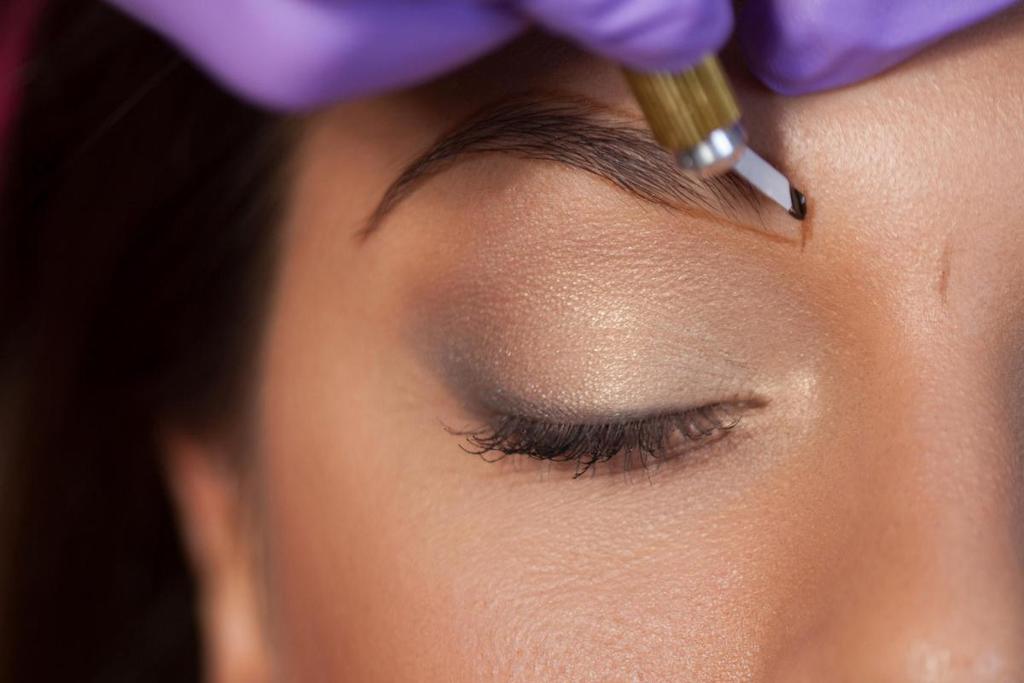 At the Academy of Advanced Cosmetics, we aim to provide our students with adequate training by covering all areas of importance, especially the consultation process. When students take a course with AAC, they learn how to conduct a full consultation and get hands-on training during their live model sessions. Students are provided with forms and have access to downloading a customizable template. This is one of the many benefits of the Academy of Advanced Cosmetics. Our team of cosmetic professionals has outlined the key steps needed to conduct a full consultation during the Microblading and Permanent Makeup process. These tools can also be performed before most cosmetic procedure consultations.
Conducting a professional Microblading or Permanent Makeup consultation address concerns and desired outcomes for the procedure. Having a professional dialogue with your client about their beauty needs, pigment color selection, eyebrow shape, lip color, eyeliner style, and stroke pattern are all common topics in order to best determine your clients' goals and outcomes. You must discuss with your client, his or health current health challenges, medical history, and lifestyle to ensure that you are not putting your client at any risks. Be eager to educate and accommodate your client in a safe, sterile, and warm environment. Remember to be friendly, informative, and set clear expectations and goals.
When you are using pigments, it is important that you are knowledgeable of your pigment ingredients and possible allergens. Clients should complete an intake form, which should identify the clients' contact profile, health conditions, allergies, authorization to take photos, understanding of the procedure, hazards, pain/discomfort, disclaimers, fees, and waivers. It is important that your consent form addresses what to expect and receipt of provided documents and or knowledge on pre and post-care.
What will you learn during the consultation is critical to the procedure itself. Lifestyle questions will help you determine if the procedure can be done and when, when a touchup may be needed (sooner or later) and gives direct insight to the activities in your client's life and whether it will be conducive to the service itself. Medical history forms will identify current medical conditions. Always be mindful of any and all medications your client is taking. Waivers are important, as the client is taking ownership in understanding the details of the procedure provided, risks, and expected outcome.
Client consultation fees are recommended, we recommend a 10% non-refundable fee of the service or a flat fee of $25.00 to be assessed for a client consultation. Deposits are typically applied to the service fee if the client proceeds. Consultations can include as much as an in-depth conversation, patch tests, brow mapping, review of products that will be used, and visuals of your previous work. It is important to provide your client with a written or emailed document on pre-care and aftercare so that the client is aware of what to expect both prior to and after the procedure.
Addressing contradictions can be a tough conversation to have but is necessary. Microbladers & Permanent Makeup artists must be prepared to tell a client that he or she may not be a good candidate. Explain in detail your reasoning and if the client's health may be at risk by moving forward. Be sure that you are being safe by avoiding legal risks in accepting clients you should not. Contradictions to remember including; anyone under the age of 18, pregnant or nursing, skin diseases, Botox treatments, chemical peels, and compromised immune systems. Diabetics can sometimes get the procedure they just have a slower healing process and Botox treatments must be done at least 3 weeks prior when Microblading.
All students of AAC learn the consultation process and are provided with consent forms. Students are instructed on the importance of before and after pictures, how to properly treat the brows, who is a good candidate and who isn't, and much more. Learn our consultation process by attending one of our advanced cosmetics courses. Visit aactraining.com or call 770.751.9881 for more information and enrollment.
0 comments