PERMANENT MAKEUP HEALING PROCESS AND TIPS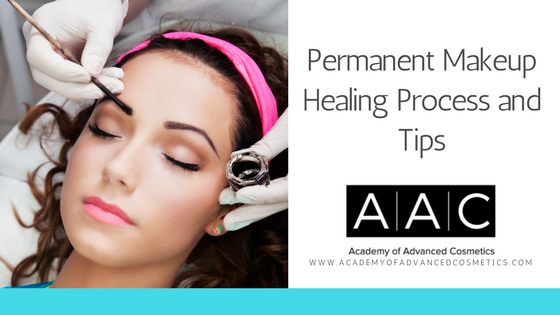 First there was the unprecedented demand, then the explosive growth of the industry (SPCP estimates professional permanent makeup artists have increased tenfold over the past three years), and finally the roster of celebrities sporting it: Victoria Beckham, Meagan Good, Madonna, Winona Ryder, and many more. It's clear that permanent makeup is here to stay.
With more and more people opting for everything from microblading to areola repigmentation, it's important to understand what happens after you get your permanent makeup done. That's where we come in.
The Academy of Advanced Cosmetics is your source for expert, insider information. We've put together a guide on the permanent makeup healing process and even offered some smart tips to help everything heal properly. Check it out and contact us today if you want to join this growing industry!
THE HEALING TIMELINE
The first thing you need to know is that permanent makeup is very similar to a tattoo. In fact, it's actually classified as a tattoo by the FDA. There are a number of key differences (the pigmentation used and application methods), but by and large they're the same.
This is especially true when it comes to the healing process and timeline. You should expect acute healing for the first week or so. Acute healing refers to such as a crust of plasma and pigment forming on top of the area, swelling, some light bruising, and sensitivity.
You should make sure to keep the area moist during the acute healing phase. Apply topical ointment throughout the day. Don't go overboard, a thin layer is more than enough. Don't pick at the area! It's probably going to itch, but don't scratch it either. Make sure to use sunscreen when you go outside (even for a couple of minutes).
When the healing area starts to itch or become uncomfortable, you can use a cold compress to help soothe it. We're big fans of using a tea bag, but a damp washcloth works great too. Tylenol or other over the counter pain relievers can help during this phase too.
After the first week, your permanent makeup will be largely healed. You'll continue to experience flaking for another week or so, and the full color will begin to show up. This isn't going to be as intense as it was initially. Don't worry! That's totally normal and if you want a darker or deeper color, touch ups are your friend.
After the first two weeks, your permanent makeup should be fully healed. Alright, onto the good stuff: our inside tips and tricks to make the healing process easier.
EYEBROW HEALING TIPS
This is the easiest type of permanent makeup to heal from. Any cases of swelling and bruising are usually minimal. The healing time itself is a little less than that of the eyeline or lips. You can thank your eyebrow area for being so resilient.
Don't tweeze or wax your eyebrows for two days prior to your appointment. Don't tweeze or wax them for two weeks after, either. Give them time to heal before scheduling any new procedures.
Eat plenty of protein during the healing process, and don't skimp on a daily multivitamin. This is going to keep your immune system healthy and help fight off any potential infections.
Eyeliner Healing Tips
The first thing you need to know about permanent eyeliner healing is that you should bring someone with you to your procedure. You don't want to drive home after. It isn't safe, plus you're going to feel better getting driven home than having to drive yourself.
Here are a series of don'ts when it comes to acute healing:
Don't wear contacts for at least a day after getting the procedure. Wear sunglasses for the first week.
Don't use an eyelash curler the day you're getting the permanent makeup done.
Don't use any lash growth serum for two weeks before or after.
Don't dye your lashes for two days before.
Get rid of your old eyeliner too. This isn't a popular suggestion, we know, but the possibility of infection is greater if you're using old mascara.
LIP HEALING TIPS
When it comes to lip permanent makeup healing, there are a lot of things to avoid. These include: spicy and salty foods, smoking, drinking without a straw, and drinking alcohol. Don't do these things while on the path to healing.
If you get cold sores, you're going to want to get an antiviral prescription. Take it for at least three days before the procedure and for a week after. Also, you're going to want to wait to get permanent makeup on your lips if you've recently had any filler injections. Three weeks is what most doctors say, but you'll want to consult with your primary care physician first.
Following these tips will help make your permanent makeup healing process smoother and easier. Contact the Academy of Advanced Cosmetics today if you want to take the next step in your career and become a permanent makeup artist!
1 comment