DIFFERENCE BETWEEN TATTOO INK AND PERMANENT MAKEUP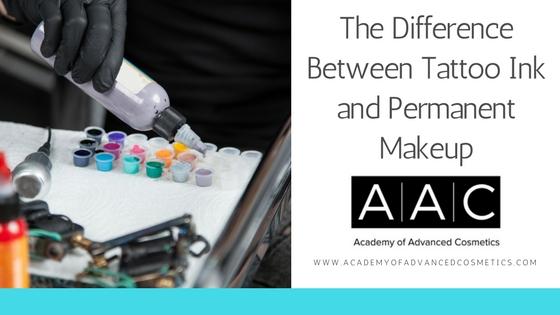 While tattoo ink and permanent makeup are very similar, there are some major differences that may come as a surprise. Here you will find an in-depth and easy to understand explanation that will help you to make the most informed decision regarding the two. Check out these three main differences between these common procedures and the color method used by both.
Ingredients & Ink
Tattoos are made using ink while permanent makeup uses pigments. What is the difference you ask? Namely, permanent makeup uses iron oxide, a pigment that is deemed as the safest pigment. Tattoos, on the other hand, are applied using a plethora of chemicals such as mercury sulfide, lead, chromium, nickel, ash, iron oxide, and the list goes on. This means while it is rare to have an allergic reaction to tattoo ink, you are far less likely to have one due to iron oxide pigment. We would also like to point out that the ink used in tattoos has a waterier consistency than the pigment in permanent makeup.
Machines & Penetration
Tattoos and permanent makeup are also done with differing equipment. Permanent makeup is almost always done with a rotary machine. Tattoos are most often applied using a coil machine and rarely use rotary machines. These rotary machines are gentler and use a finer needle.
The ink used in tattoos reaches deep into the subcutaneous layer (hypodermis) of the skin, making tattoos a permanent option. Permanent makeup only penetrates the dermis which is why, although called permanent, they only last up to 5 years.
Purpose
Besides the dye, another big difference between these two popular procedures is their purpose. Most people are aware that tattoos are very versatile, they can go on almost any part of the body, and they are also more vibrant and bold. Permanent makeup, however, is less harsh. This is actually a huge plus since the most popular areas of use are eyebrows, lips, and eyes. Permanent makeup is most often used by busy professionals who lack the time to do makeup repeatedly, those with unsteady hands and/or vision, and even people suffering from physical issues like hair loss, discolored lips, and more.
For many, the differences between tattoo ink and permanent makeup may not warrant an in-depth explanation. However, when it comes to what you use on, and put in, your body, it's best to know all the details so that you can make an informed decision. Doing your due diligence before deciding on any type of procedure, whether tattooing, permanent makeup, or something completely different, will save you time, money, and heartache.
Keep in mind that both tattoos and permanent makeup come with risks and complications, including reactions to the ink or pigment, scarring, blistering, granulomas, and more. It all depends on the sensitivity of the client's skin, proper aftercare, and making sure to use a skilled professional who invests in proper tools, ingredients, and technique.
We believe that educating ourselves and our clients is just as important as performing the actual service. If you have any questions regarding tattoo ink or permanent makeup, give Academy of Advanced Cosmetics a call!
1 comment