Find your passion with a career in Microblading and Ombre Eyebrows as an Elite Eyebrow Specialist.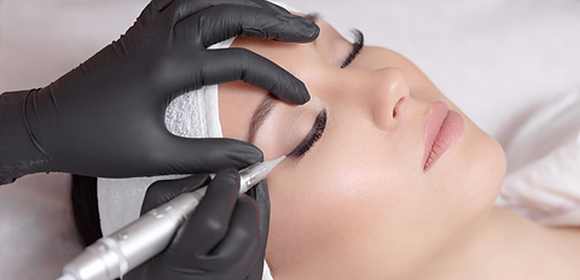 Major celebrities like Kim Kardashian and Beyonce Knowles have women wanting the best "power" eyebrow. Over the last couple of years, more and more women are feeling the after-effects from over plucking, tweezing, hot waxing, and threading. Thankfully, we all can walk into any Sephora to choose from a variety of brow pencils, makeup, concealer and gels to achieve the perfect eyebrow. All because eyebrows are a prominent feature that defines our facial features. Applying makeup daily, waxing or threading bi-weekly, and brow tinting monthly, all have multiple things in common; time consumption, scheduling, and repeat expenses. Arise a solution, Microblading and Ombre Eyebrows. This revolutionary trend is creating more than a buzz on the social and beauty scene, and the Academy of Advanced Cosmetics is at the forefront of providing professional training.
There are countless benefits to having a Microblading and or Ombre Eyebrows procedure but the benefits of providing the services are even more rewarding. Microblading is a semi-permanent makeup procedure whereby hair-like incision strokes are created along the eyebrow. This enhances, reshapes and create the most natural looking appearance on the brows for up to a year and a half. Ombre Eyebrows known as shading is used with a digital permanent makeup machine. This creates a light to dark ombré look to the brows. The beauty of this procedure is how the brows appear lighter at the bulb (front) of the brow and going darker towards the tail. Ombré Eyebrows gives a soft powder makeup look that's still natural look for up to five years.
Current and aspiring beauty professionals are taking advantage of this growing trend by offering their clients the "power eyebrow" as an Elite Eyebrow Specialist. The Academy of Advanced Cosmetics (AAC) of Atlanta, Georgia specializes in this advanced cosmetic techniques. AAC is well known for its Microblading and Ombre Eyebrow training courses. In fact, Academy of Advanced Cosmetics has been deemed one the best permanent makeup schools in the South East of the United States and is also ranked highly among new Microblading professionals. Registering for the Elite Eyebrow training course is simple, however, the training course will reflect AAC's motto, "High Standards. Quality Work." Students can expect to receive over 40 hours of professional training which includes an intense three-day hands-on education experience where students are granted the opportunity to work on two live models.
The average salary for an Elite Eyebrow Specialist is in the starting average $30,000 to upwards of 6 figures. With this range, it's important to be trained by the best. That's where the Academy of Advanced Cosmetics enters the picture. AAC's impressive Elite Eyebrow training course teaches above the average and provides students with a great road to a successful and thriving career.
To learn more about how you can become a professional Microblading and Ombre Eyebrow Specialist, visit aactraining.com or call 770.751.9881. Become part of the eyebrow solution!
0 comments